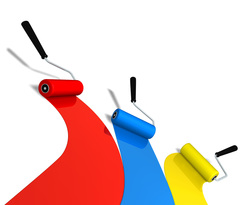 You decided is time to renovate your home but you cannot afford it so the cheapest way to change your environment is by replacing the colors and have that freshness as well as different look that injects new life to the people surrounding you. It acts as a matter of magic as soon as the work is done; see their faces while getting in and how their spirit has already shifted for better. But first you have to look around for a professional to accomplish your goal. Some people begin by either asking to friends or many signs posted around your neighborhood so what it was as rapid and easy task is becoming a puzzle. Well here we are looking forward to serve you by saving you time. There are some important things to check out:
* Construction painters do not have the final touch for details as required in residential renovation, their objective is finishing fast so they are only trained for that. Cheap costs expensive looking at the results.
* The city is flooded with signs offering student painters but lack of experience in not a minor factor when we are talking about your home. Again, cheap costs expensive looking at the results.
* Some companies give you an estimate over the phone just to try to widen their profit by saving the cost of visiting the place.
We offer you the following:
* Our many years of expertise servicing Residential in all Toronto, GTA and all Niagara Region.
* Free estimate by visiting your home and either email or fax you a written quote.
* We use only very renowned paint Brands.
* Our prices are very reasonable.
* Customer service.



---